April 2013
John Breslin, Breakfast Show host and Hazel Russell, Financial Controller of Highland Radio presenting Elizabeth Tinney, Newtowncunningham with her  cheque for €5,400 which she won on the Jackpot for Rehab Radio Bingo on Tuesday 23rd April.   The Jackpot now starts again at €3,000 and increases by €300 weekly.   Elizabeth bought her book at Callaghans Electrical, Burt.
February 2013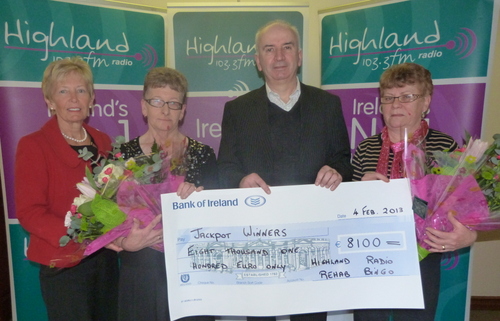 Highland's Rehab Bingo Jackpot Winners, Frances Gallagher, Rathmullan and Anne Doherty from Culdaff who shared last weeks prize of €8,100. They are accompanied in the photo  by Charlie Collins, Station Manager and Hazel Russell, Financial Controller.
October 2012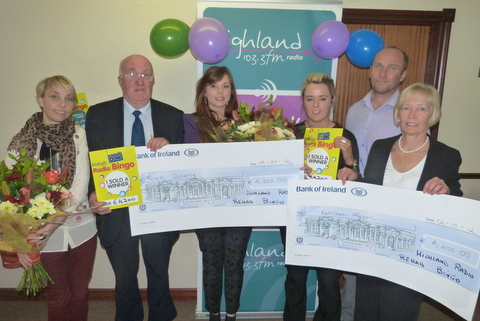 Michelle Doherty from Manorcunningham and Yvonne McFadden representing Kathleen Fegan, from Kilmacrennan who shared the Jackpot and won €4,200 each.   Also in photograph are Hazel Russell, Highland Radio, Ivan Browne, Manorcunningham and Tanya McGettigan from the Millbridge Kilmacrennan where the lucky ladies bought their books.