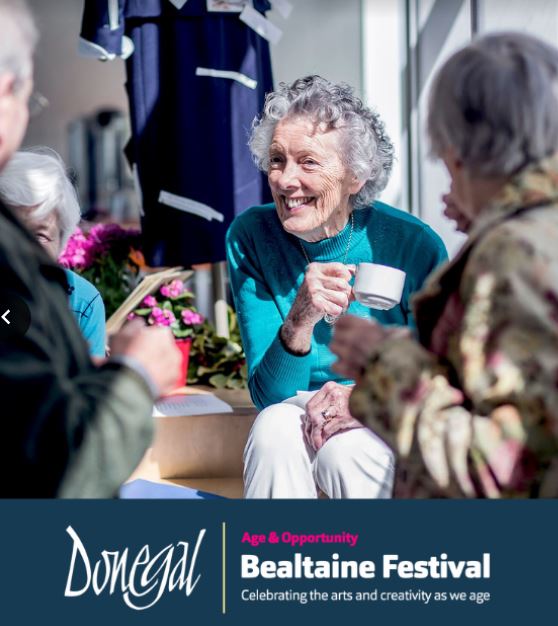 Ireland's national celebration of the arts and creativity as we age, Bealtaine Festival, will be celebrated from home next month.
Age & Opportunity's 2021 festival's edition, Bealtaine at Home, will celebrate In(ter)dependence as its theme.
In County Donegal the festival, now in its 24th year, will be kicked off with a special launch event recorded at the Regional Cultural Centre (RCC), Letterkenny and premiering online on Saturday, 1st May at 7pm, to mark the beginning of the month-long festivities. Hosted by Fergus Cleary, the launch event will be streamed on the RCC's Facebook and YouTube channels and features acts from across the county.
Bealtaine, festival co-ordinator Rita Chapman says the events taking place during May this year will be featured online, as our libraries and culture division buildings remain closed for events.  The Culture Division have planned weekly Bealtaine Coffee Morning sessions hosted by poet Maria Noonan-McDermott which will feature special guest Seamus O'Rourke.
Mobile Music Machine will visit care homes in Co. Donegal and in Co. Tyrone and bring classical music and songs to residents. The festival will also feature wellness sessions, cooking classes, and the committee have many more events planned.
Bealtaine at Home, 1st to 31st May 2021, an Age & Opportunity Arts Initiative, Bealtaine in Donegal is organised by Donegal County Council Culture Division in association with a wide range of partners and is co-ordinated by the Regional Cultural Centre and Donegal County Library. For further details contact Central Library at 074 91 24950 or email Bealtaine@donegallibrary.ie
Bealtaine Festival 2021 Brochure can be downloaded from: www.donegallibrary.ie