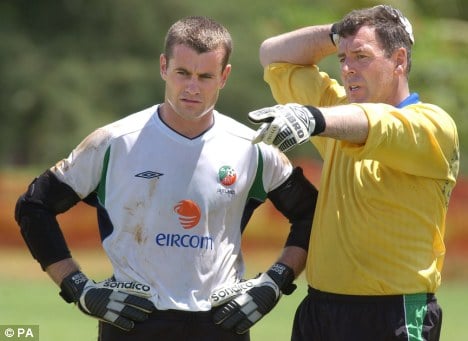 Donegal goalkeeping legends, Packie Bonner and Shay Given, took time out of their busy schedules on Thursday night to participate in the YOURS Intergenerational Programme being rolled out by Donegal Sports Partnership (DSP) in the communities of Raphoe and Falcarragh.
The YOURS Programme (Young and Old, Understanding, Remembering and Sharing) is supported by the EU through Donegal County Council's Peace IV Action Plan, and aimed at bringing young and old together to promote greater understanding and respect between generations.
The two former international netminders spoke openly and honestly about their life and times, their highs and lows, standout moments in their careers and their love of Donegal during the Zoom session which lasted almost two hours.
Packie Bonner, who is a technical advisor to UEFA and a media pundit, told the attendance of around 50 that he was missing home and was looking forward to making the trip back to Keadue, while Shay Given, first team coach at Derby County, revealed he missed hearing the Donegal accents.
The initial aim of the intergenerational project when it was launched in October, 2019, was to develop a practical social soccer/walking football initiative in Raphoe and Falcarragh, working with Raphoe Town FC and Ionad Naomh Fonann.
"However, because of the Covid-19 restrictions, we had to change our method of delivery and moved the project online where weekly sessions were hosted to engage the groups," explained DSP Co-Ordinator, Myles Sweeney.
"These sessions have received excellent feedback and highlighted to us the needs that exist in communities at present, not alone in sharing intergenerational knowledge, but also in communication and giving people who may be isolated something to look forward to in these difficult times," he added.
Sports Project Officer, Hugh Carlin, who is heading up the YOURS Intergenerational Programme on behalf of DSP, described the night with Packie Bonner and Shay Given as a huge success.
"The support from the groups in Raphoe and Falcarragh was fantastic, while Packie and Shay were so accommodating and willing to share their experiences which is what the programme is all about," he said.
"There was a great level of interaction between the group and the guests during the question and answer session. From our point of view, the event was seamless, memorable and hugely inspirational," he added.
Both Packie and Shay used the opportunity to send their good wishes to Kacey Blackburn, a talented underage player with Raphoe Town FC who was diagnosed with Idiopathic Scoliosis in November, 2019. Kacey, who attended the Zoom session, will undergo urgent surgery in Turkey on Saturday, April 10th. Her mobility is limited, she is unable to run, can only walk short distances and is unable to sit or stand for any period of time without taking pain relief.
A GoFundMe page – Help Kacey Be Pain Free - was set up at the end of March and €42,000 of the €65,000 target has already been raised.