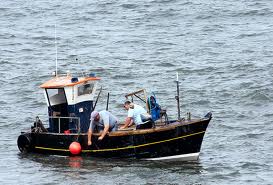 A Donegal Deputy has told the Marine Minister that fishermen have been shafted.
Deputy Padraig MacLochlainn claims up to 400 fishing jobs are at risk in Donegal on the back of the Brexit deal reached for fisheries.
Under the terms of the agreement, EU boats will have to reduce the quantity of fish caught in British waters by 25%.
Deputy MacLochlainn is calling on Minister Charlie McConalogue to urgently engage in a renegotiation of the Common Fisheries Policy:
In response, Minister McConalogue while saying it was the best deal on the table, has committed to continue to fight for a better deal: