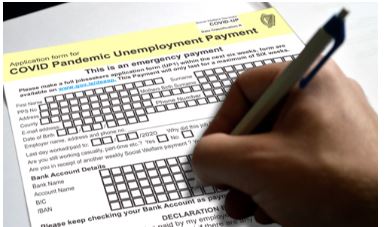 More people are claiming the Pandemic Unemployment Payment, with a 6.6% rise in the number receiving the payment across the country tomorrow.
In Donegal, where Level 4 was imposed last week, the rise is slightly higher at 7%.
244,153 people will receive the Pandemic Unemployment Payment across the country tomorrow, an increase of 15,295 on the previous week.
In Donegal, 9,119 will receive the payment, up 589 on last week.
2,031 people in the county are now claiming Enhanced Illness Benefit, up 173 on last week and up 305 on the week before that.
2,526 have closed their pandemic payment accounts over the past week, 88 of them in Donegal.
County
Number of people in receipt of a Pandemic Unemployment

Payment on

20th October

Number of people in receipt of a Pandemic Unemployment

Payment on

13th October

Number of people in receipt of a Pandemic Unemployment Payment on

5th May

 
Carlow
2,398
2,234
7,800
Cavan
3,226
2,875
9,700
Clare
5,493
4,997
14,600
Cork
22,513
20,566
61,900
Donegal
9,119
8,530
22,700
Dublin
85,950
84,485
174,200
Galway
13,035
11,578
32,300
Kerry
9,028
7,630
22,200
Kildare
10,474
10,041
26,100
Kilkenny
3,749
3,338
10,600
Laois
3,014
2,871
8,600
Leitrim
1,447
1,307
4,100
Limerick
9,077
8,300
22,300
Longford
1,513
1,399
4,500
Louth
7,218
6,730
17,300
Mayo
5,977
5,125
16,400
Meath
9,234
8,659
25,000
Monaghan
2,912
2,627
8,200
Offaly
3,081
2,921
8,900
Roscommon
2,417
2,234
7,100
Sligo
2,974
2,659
7,700
Tipperary
6,225
5,775
18,800
Waterford
5,327
4,773
14,100
Westmeath
4,198
3,788
11,700
Wexford
6,540
5,846
20,500
Wicklow
7,195
6,718
18,700
County not included
819
852
2,000
Total
244,153
228,858
598,000