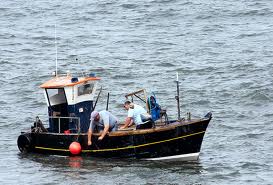 The Killybegs Fishermen's organisation says Minister Michael Creed has effectively turned his back on the fishing industry in his decision to reject pleas for specific Covid supports for the sector.
There's been a reported drop of between 50% and 70% in some sales over the past few weeks.
Earlier this month, the Minister announced a Covid-19 Voluntary Fleet Tie-Up Scheme which the CEO of the KFO says is completely unfit for purpose.
Sean O'Donoghue says they are already in a desperate situation: