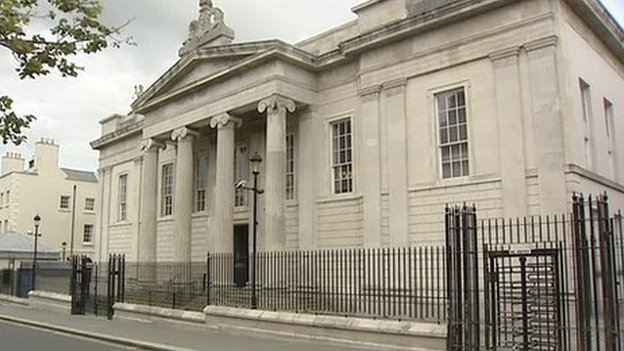 A man with 151 previous convictions has appeared at Derry Magistrate's Court charged with three armed robberies in the city on Saturday last.
31 year old Caolan Shields, with an address at Woodleigh Terrace in the city was charged with the attempted robbery of three different shops in the city centre while armed with a knife.
The court was told that the defendant is being held in the Covid suite at Musgrave Street police station and so the case was dealt with in his absence.
A police officer connected Shields to the charges and opposed bail.
He told the court the defendant came to Derry on April 16 as part of bail conditions.
On April 18 he is alleged to have entered the Sunrise 24/7 shop wearing a red hoodie. He produced a knife and demanded money but the witness in the shop recognised him from the previous day when he was supposed to have stolen an item from the shop. The witness engaged the suspect in conversation and he left empty handed.
A short time later the man is alleged to have entered PJ's newsagents in William Street where there was on single female working. He again produced the knife and the woman retreated behind a perspex screen that had been erected in the shop. The officer said Shields threatened to break it but left when the woman picked up a pair of scissors.
The court then heard that Shields was alleged to have gone to the nearby Central shop in Waterloo Place and again produced the knife but an assistant pressed a panic button and he left.
The officer said Shields was apprehended nearby with assistance of a member of the public and on being arrested claimed he had symptoms of Covid.
At interview the accused said he had no recollection of any of the events.
The knife was said to be a six inch blade stolen from the hostel he was staying in.
Bail was opposed due to fears of further offending and the officer said Shields was also in breach of bail when these offences were committed.
Defence counsel Bobby Rea said his client had been 'forthright' in his approach and had 'a long standing drug problem'.
He said while Shields had a lengthy record with 55 separate sentencing exercises he had nothing like this on his record. He said it was likely given the current situation that Shields would be on remand for some time.
District Judge Peter King said that if he granted bail it would be placing local shopkeepers at risk. He refused bail and remanded Shields in custody to appear again on May 14.