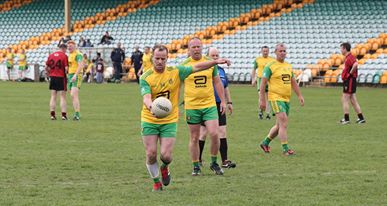 Four north west players have been included on the Ireland Masters squad to play Australia in the upcoming International Rules test.
Sean McDaid and Michael Ward from Donegal and Eamon McElroy and Eoin Gormley of Tyrone have been named in the 32 strong squad while Joe Leonard from Tyrone is part of the management team.
The 2019 KCS test will take place in the Denn GAA grounds in Cavan on Saturday July 20th at 3pm and will form part of the Denn's 50th anniversary celebrations.
reland have won the series twice (October 2006 and 2016), and Australia have won it twice (2008 and 2009).
The squad to face the Aussies is: Sean McDaid, Michael Ward (Donegal); Carl McGrane, Noel Casey (Kildare); Colin Gordon, Con O'Meara (Sligo); Alan Mangan, Martin Flanagan (Westmeath); Paul Gilleran, Terence Kelly (Roscommon); Pat Mulchrone, Michael Moyles (Mayo); Kevin Fitzpatrick, John Kealy (Laois); Chris Byrne, Keith Geraghty (London); Pat Cunningham, Paraic de Paor (Galway); Tony Convery, Laurence Higgins (Antrim); Kevin Mcgrath, Johnny Burns (Down); James O'Connor, Damian Flanagan (Dublin); Eamon McElroy, Eoin Gormley (Tyrone); Jp McManus, Noel Reynolds (Leitrim/Longford); Jerome Kiernan, Mickey Brennan(Cavan); Odran O'Dwyer, Ronnie Slattery (Clare).
The Irish team management are Jimmy Galligan (Cavan), Joe Leonard (Tyrone), and Anthony Carroll (Roscommon).