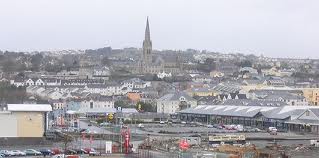 Detailed plans for a new Social Enterprise Building in Letterkenny will be presented to a full meeting of Donegal County Council in July.
A report presented to a local Municipal District meeting this week said the plans and drawings will be finished by the end of this month.
The proposed new building was announced last year, following an allocation of funding from the Designated Urban Centre grant scheme.
It will be located on the piece of ground between Joe Bonner Road and the Letterkenny Public Services Centre, and is expected to be named in honour of John Hume on foot of a council decision last year.
In an update presented this week, members were told that following discussions between planners and a number of community groups, detailed drawings and plans would be ready for submission by the end of this month.
A Part 8 planning application will then be presented to the plenary council meeting in July, with further meetings and ongoing discussions with community groups set to take place over the course of the planning process.
It's expected that the €4 million project will be complete by next year.