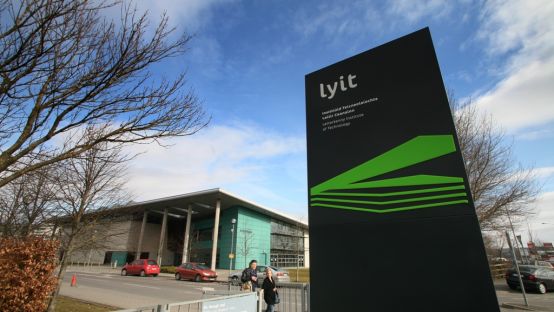 Students have begun collecting their Leaving Cert results, over 57,000 across the country, 2,122 of them in Donegal.
Results are now available in schools, and will be available online at 12 noon.
Almost 4,000 have failed maths, with a breakdown of the statistics shows that works out as around 10 percent of all those who sat the ordinary level paper.
Letterkenny Institute of Technology is offering advice to anyone with questions today, including details of a special Enabling Maths initiative for those who may have failed the subject.
An Information Day takes place on this day week, Wednesday August 22nd, while a special helpline service is available at the college this week.
LYIT's Schools Engagement Officer is Fiona Kelly...........
Helpline numbers -
Fiona Kelly, Schools Engagement Officer      (074) 9186105
Tracey Sheridan, LYIT Admissions Office       (074) 9186126. 
LYIT statement -
Have you just received your Leaving Certificate results and need advice on your future? Are you currently unemployed and looking to boost your employment prospects? Have you recently graduated and need information on postgraduate programmes that will enhance your career path? Then if so, you need to attend Letterkenny Institute of Technology Information Day. This event takes place from 11am to 4pm on Wednesday 22 August, at both the Letterkenny and Killybegs campuses, and staff from LYIT will be on hand to answer your queries and give advice.  
Whether it's advice on CAO and 'Available Places' at LYIT, or information on postgraduate, part-time or Springboard programmes, LYIT's experienced and friendly staff will be available to answer your enquiries at this event.
LYIT offers an extensive range of programmes and a fantastic student experience. In addition to advice on programmes, LYIT staff will be available to give information on grants, accommodation, and student support services at the Institute. Accommodation costs in Letterkenny are considerably lower than the major cities such as Galway and Dublin, which has contributed to the rise in the numbers of students from outside Donegal choosing LYIT.
In 2016, LYIT introduced the 'Enabling Maths' course, in conjunction with Donegal Education Training Board, a course designed to give a 'second chance' to students who have failed Leaving Certificate maths. Staff from 'The Curve' at LYIT will be available to answer queries from students who may have failed Leaving Certificate Maths at this event.