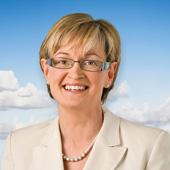 There are calls for a Europe wide response to the fodder crisis, with one Midlands North West MEP saying there is a need for sonme fundamental policy changes to reflect changing weather patterns.
Mairead Mc Guinness, a Vice-President of European Parliment, says drought is causing severe problems for farmers not just in Ireland but in the Nordic region and Baltic countries.
Ms Mc Guinness is promising to raise the need for a European response when the Parliament returns later this month, and says there's now a clear need to at least maintain the current EU agriculture budget.........