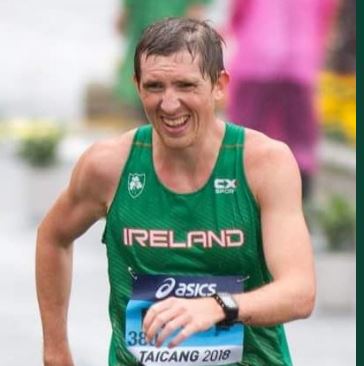 Donegal athletes Brendan Boyce and Mark English have been named among a strong team of 41 for the European Athletics Championships in Berlin in August.
Boyce will compete in the 50k walk while English has been named for the 800ms after another national title win at the weekend.
Despite qualifying for the European seniors, U20 silver medallist Sommer Lecky will not be going to Germany.
Also heading to Berlin are Thomas Barr and Ciara Mageean who are the leading Irish athletes on the European rankings.
Sprinter Leon Reid, who previously represented Britain, has been provisionally selected on the team, pending the outcome of the IAAF transfer process.
The European Athletics Championships in Berlin take place from 6th to 12th August.
Women
Phil Healy (Bandon AC) 100m & 200m, Gina Akpe-Moses (Blackrock AC-Louth) 100m, Siofra Cleirigh Buttner (DSD AC) 800m, Claire Mooney (UCD AC) 800m, Ciara Mageean (UCD AC) 1500m, Emma Mitchell (Queens University AC) 10,000m, Kerry O'Flaherty (Newcastle & District AC) 3000m steeplechase, Michelle Finn (Leevale AC) 3000m steeplechase, Breege Connolly (North Belfast Harriers AC) marathon, Gladys Ganiel (North Belfast Harriers AC) marathon, Laura Graham (Mourne Runners AC) marathon, Lizzie Lee (Leevale AC) marathon,
4x100m relay panel: Phil Healy (Bandon AC), Gina Akpe-Moses (Blackrock-Louth), Ciara Neville (Emerald AC), Joan Healy (Bandon AC), Niamh Whelan (Ferrybank AC), Molly Scott (SLOT AC)
4x400m relay: Davicia Patterson (Beechmount Harriers AC), Claire Mooney (UCD AC), Sophie Becker (St. Joseph's AC), Sinead Denny (DSD AC), Ciara Deely (KCH AC), Catherine McManus (DCH AC)
Men
Marcus Lawler (SLOT AC) 200m, Chris O'Donnell (North Sligo AC) 400m, Zak Curran (DSD AC) 800m, Mark English (UCD AC) 800m, Stephen Scullion (North Belfast AC) 10,000m, Ben Reynolds (North Down AC) 110m hurdles, Thomas Barr (Ferrybank AC) 400m hurdles, Adam McMullen (Crusaders AC) long Jump, Cian McManamon (Westport AC) 20km Walk, Alex Wright (Leevale AC) 20km Walk, Brendan Boyce (Finn Valley AC) 50km Walk, Sergiu Ciobanu (Clonliffe Harriers AC) marathon, Mick Clohisey (Raheny Shamrock AC) marathon, Sean Hehir (Rathfarnham WSAF AC) marathon, Paul Pollock (Annadale Striders AC) marathon, Kevin Seaward (St Malachy's AC) marathon,
4x400m relay: Chris O'Donnell (North Sligo AC), Brandon Arrey (Raheny Shamrock AC), Thomas Barr (Ferrybank AC), Craig Newell (Ballymena & Antrim AC), Andrew Mellon (Crusaders AC), Dara Kervick (DSD AC)