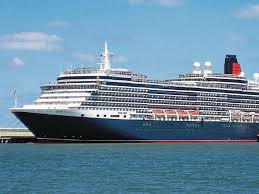 The biggest ship ever to visit Donegal has arrived in Killybegs today.
The 'Queen Elizabeth' has over 2,000 passengers and more than 1,000 crew on board and docked at the fishing town earlier this morning.
It is on a cruise around Britain and Ireland.
While many of passengers are set to spend the day in and around Killybegs, some will go on day excursions to other popular tourist destinations in the county.
Local Cllr Niamh Kennedy: