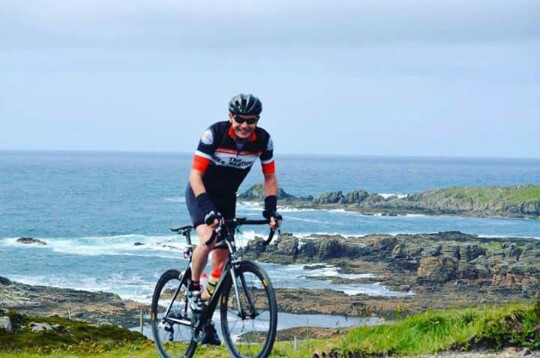 A record number of cyclists will take part in this weekend's Donegal Altantic Way Ultra 555k Cycle.
Between all categories, around 330 riders will compete in this year's event. The final entry list is made up of 28 solos, 24 two-person teams, 42 four-person teams and 9 eight-person teams.
The first of the riders will roll off the ramp at the Ballyraine Halls accommodation block at eight o'clock on Friday morning, with the last batch of riders away at 3.30 pm. The first finishers are expected to come from the two-rider category and their estimated time across the finish line located at the Mount Errigal Hotel will be around 8.30 on Saturday morning.
The novel concept of the Donegal Ultra 555 was devised by local adventure racers, Shaun Stewart from Creeslough and Sean McFadden from Letterkenny, in 2016, and it has really captured the imagination of the cycling fraternity, both locally and nationally.
Looking ahead to the event, Shaun Stewart said that the running order has been changed this year to lessen the chance of traffic build up along the route.
"After last year's Ultra, we thought about maybe reversing the route or splitting it over two days. But after a fair bit of deliberating, we decided to stick with the same format and rejig the times. A lot more of the riders will be finishing closer together with this new running order, while the winners will be coming in at the finish that bit later in the morning. Hopefully, the later finish will attract a bigger crowd at the finish," he said.
"We would like to remind all road users in Donegal to be mindful that there will be a large number of cyclists on the road over the weekend. The safety of everyone is paramount and that is a message we will be constantly pushing in the build up to and during the event to both the cyclists, the crews and those out following the race along the route. The 555 has earned a reputation as being a fun event and an enjoyable event, and that's the way we want to keep it.
"Looking at the forecast for the weekend, it seems pretty ok. Friday is to be a bit patchy, with Saturday expected to be fine and dry which would be great," Shaun added.
With 2016 and 2017 winner, Ronan McLaughlin, not competing this year, a new rider will be crowned the Ultra 555 champion. The Muff rider's record time for the course, which has a grueling 6,000 metres of climbing, was 19 hours, 19 minutes and 40 second.
Letterkenny cyclist, Declan Rafferty, is the only solo rider in this year's field who has competed as a solo in 2016 and 2017.