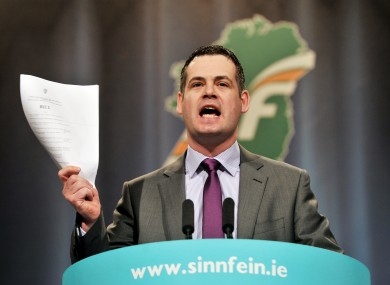 The Sinn Féin Ard Fheis starts today with abortion and Brexit the big items on the agenda.
Around 3,000 delegates will vote on 171 motions at the conference in Belfast.
Almost 200 motions will be debated by the delegates at the Sinn Fein Ard Fheis.
Party leadership is looking for backing for the government proposals on abortion.
At the moment their TDs and Senators can't fully back the recommendation of abortion without restriction for up to 12 weeks.
However another motion from 24 cummans calls for the parliamentary party to have a free vote on the issue, something that could impact the futures of TDs Peadar Toibin and the currently suspended Carol Nolan.
Those attending will also vote on a motion calling for the party to only enter into a left wing government after the next election, which would spurn any potential coalitions with Fine Gael and Fianna Fail.
Brexit will form a big part of discussions with more calls for a united Ireland.
And Sinn Féin delegates will also be asked to call for RTÉ to boycott next year's Eurovision song contest in Israel.