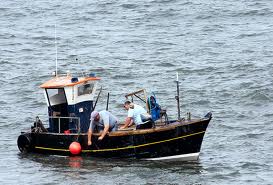 The Dail has begun debating a Private Member's Motion calling for a fairer penalty points regime for fishermen.
The motion was introduced by Fianna Fáil Marine Spokesperson Pat the Cope Gallagher, who says
Minister Michael Creed was wrong when he introduced points through a Statutory Instrument.
That regime has now been deemed unconstitutional by the Supreme Court, because of a number of issues, including no independent appeals system, and the fact that points were never erased.
Speaking in support of the motion, Donegal Deputy Charlie Mc Conalogue told the Dail a way must be found to meet Ireland's legal obligations in a more appropriate manner: