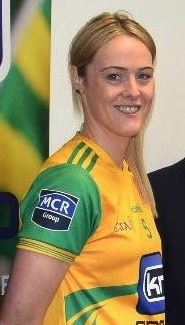 THE Lidl Teams of the 2018 Ladies National Football League were revealed this week.
The Division 1 team contains players from no fewer than six counties, with Donegal, newly-crowned champions Dublin, runners-up Mayo, Westmeath, Galway and Monaghan all represented.
The Donegal trio named are Ciara Hegarty, Karen Guthrie and Yvonne Bonner.
Guthrie and Bonner, along with Galways Sinead Burke are the three survivors from the 2017 selection.
The players selections were nominated by opposition managers after each round of fixtures, and the players who received the most nominations have been included.
Division 1 Lidl NFL Team of the League:
1. Ciara Trant (Dublin)
2. Martha Byrne (Dublin)
3. Sarah Tierney (Mayo)
4. Jennifer Rogers (Westmeath)
5. Fiona Coyle (Westmeath)
6. Ciara Hegarty (Donegal)
7. Sinéad Burke (Galway)
8. Aileen Gilroy (Mayo)
9. Muireann Atkinson (Monaghan)
10. Karen Guthrie (Donegal)
11. Tracey Leonard (Galway)
12. Nicole Owens (Dublin)
13. Niamh Kelly (Mayo)
14. Yvonne Bonner (Donegal)
15. Grace Kelly (Mayo)