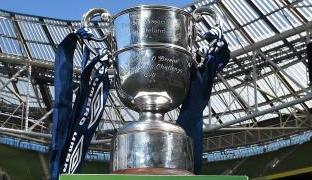 A place in the quarter-finals of the FAI Intermediate Cup is the prize on offer for Cockhill Celtic and Letterkenny Rovers, who face away games in Dublin this weekend.
Rovers were finalists in 2016 when they lost to Crumlin at the Aviva. This weekend, they travel to face Cherry Orchard while Gavin Cullen takes his Cockhill Celtic to meet Home Farm.
Home Farm v Cockhill Celtic
A lasting sojourn in the FAI Intermediate Cup is all that is absent from Cockhill's impressive CV of recent seasons.
The five-in-a-row USL League and League Cup double winners have not managed to make a big impression in this competition.
"The Intermediate is the only box that these boys have to tick," says Cockhill boss Cullen.
"They have done everything else in Leagues and Cups. It's the only thing we're missing. Hopefully we can go down and get a positive result this weekend."
Cockhill have recently lost ace striker Garbhan Friel who has emigrated to Dubai.
Cullen says: "Garbhan is a massive loss. He was having his best season and really added. We'll miss his influence and his work rate."
Gerry Gill has returned to the Charlie O'Donnell Sports Grounds, however.
Gill had played with his native Greencastle FC for the first part of the season, but is back in Cockhill's squad again.
Cullen says of his addition: "Gerry is a great signing for us. We know the quality that he brings and the work rate that he has. His deliveries and his goals will be a help to us, for sure. We didn't want to lose Gerry at the time and we were surprised we did."
Cockhill lost to Fanad pre-Christmas for what was only their second Four Lanterns USL defeat in five years, but a 5-0 win on Sunday at Bonagee sends them to the capital in good stead.
Cullen says: "We'll be up against a good side. They have prioritised the Cups this year and their League position is a bit false.
"They've beaten Bluebell, Crumlin, St Mochta's and Sherriff in various competitions this season so they have a pedigree."
Cherry Orchard v Letterkenny Rovers
Letterkenny Rovers haven't had a competitive outing since a 3-0 win over Bonagee on December 3, but manager Eamon McConigley feels his side won't need geeing up too much this weekend.
Finalists in the Intermediate Cup in 2016, Rovers are eager for another deep run in the competition and McConigley - a two-time winner with Fanad United - has made a couple of big signings of late.
While Sean McCarron, who had been in flying form for the Cathedral Town side, has signed for Institute, Rovers have added Paul McVeigh and Ryan McConnell.
McVeigh played in the 2016 final and comes back in following a short period in Scotland. Defender McConnell was a Manchester United underage captain who had stints at Finn Harps and Ballinamallard most recently.
McConigley is hopeful that international clearance will be obtained in time for Sunday.
"They'll be two good additions and will really strengthen us up," the Rovers boss says.
"They have played at senior level too and will bring us on.
"It's about who works hardest on the day and we don't put too much emphasis or focus on the opposition.
"We have been pretty consistent this season and we'll have a chance to go top with our games in hand.
"We haven't played a competitive game in a long time and it has been a frustrating period. We're trying to train and train, but it's hard without a game."
Veteran striker Darren McElwaine is an injury doubt for Sunday, while Brian McVeigh is in a race against the fitness clock.
McCarron's departure leaves McConigley down a striker who had been on song.
He says: "Sean was a class player for us. He has gone to play at a higher grade. That's one reason we didn't want to lose him because he can play at a higher level of football.
"He was excellent for us, but we have been used to losing players to teams like that. You have to move on and you can't dwell on it."
Rovers warmed up for the weekend's voyage with a 2-1 friendly win over Donegal League leaders Kildrum Tigers.
McConigley says: "We played Kildrum Tigers in a friendly on Sunday and we were glad to get that. it gave us 90 minutes that we needed and it was quite a good game.
"There was a bit of rustiness, but it was good to get it before we go to Dublin. We can put some things right from that hopefully for Sunday."
Four Lanterns Ulster Senior League
With Cockhill not in action, Fanad United have the chance to go to the summit of the Four Lanterns Ulster Senior League this weekend.
Fanad head for a derby clash with struggling Swilly Rovers in Ramelton. Arthur Lynch's Fanad have enjoyed a revival this season and are keeping on the coats of the leaders.
A win at Swilly - who have yet to taste a victory this season - would send the Trailgh-A-Loch residents to the top of the pile.
In the other game, Bonagee United host Finn Harps Reserves at Dry Arch Park with Tony O'Carroll's Bonagee also bidding for a first win of the campaign, while Harps have a chance to go joint third.