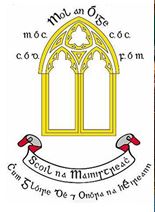 The Abbey Vocational School in Donegal Town, under the management of Donegal Education and Training Board has announced plans to establish an Aonad Gaeilge within the school from September 2018.
The Aonad will be part of the school's site and will offer students subjects through the Irish language, including Gaeilge, Maths, History, Geography, Science and Religion.
While, Physical Education; Civics, Social and Political Education; and Social, Personal and Health Education, will come under the new Wellbeing subject in the Aonad.
Pupils will integrate with the wider school community for optional subjects such as; Metalwork, Woodwork, Technical Graphics, Music and Art. English and Modern Languages.
The initial commitment by the school will be to offer the curriculum up to the completion of the Junior Cycle with an ongoing review of provision.
In welcoming the announcement, Government Chief Whip Minister Joe McHugh says: There will be a strong emphasis on Irish culture and language through a range of new extra-curricular activities, and I welcome this measure in promoting and enhancing our Irish culture, which will undoubtedly assist these students and the local community."