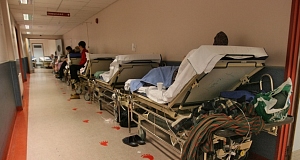 A Government Minister says everything that can be done - is being done to solve the hospital trolley crisis.
44 people were waiting for a bed at Letterkenny University Hospital yesterday - the second most overcrowded in Ireland.
The full capacity protocol had been in place Monday and Tuesday of this week at the hospital.
It also emerged yesterday that a 94 year old man spent more than 10 hours on a trolley at University Hospital Galway.
Social Protection Minister Regina Doherty says its a difficult situation for patients and their families: