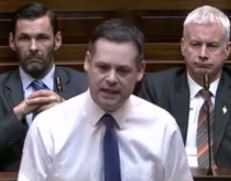 There are calls for the Minister for Health and the HSE to urgently step up efforts to recruit a number of vacancies at Letterkenny University Hospital's Radiology Department.
Donegal Deputy Pearse Doherty says he has received confirmation from management at the hospital that the department currently only has 5.1 Whole Time Equivalent Posts filled on a permanent basis, despite the sanctioning of 7 full-time Consultant Radiologists to staff the unit.
Deputy Doherty says the lack of staff at the department is having a knock-on effect resulting in patients experiencing delays.
He says; "The length of time it is taking to recruit staff is a major cause for concern, clearly the approach being adopted by the HSE to fill vacancies and attract talent is simply not working."