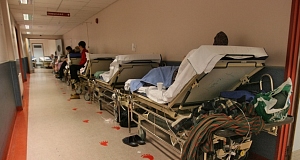 The Irish Medical Organisation says our hospitals are 'a system in meltdown' due to overcrowding.
The IMO says the Taoiseach and the Finance minister must commit the necessary funding to end the trolley crisis.
Health Minister Simon Harris said yesterday he's committed to opening more beds and reforming the system.
But IMO President Dr Ann Hogan says things won't change without real investment: