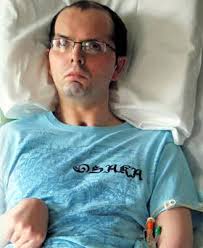 A court has been told that threats have been made against a Derry man charged with the murder of civil servant Paul McCauley.
Mr McCauley was left in a vegetative state after being beaten by up to 15 people in a sectarian attack at Chapel Road in the Waterside in 2006. He never regained consciousness, and died in June 2015 aged 38.
30 year-old Matthew Gillen of Bond's Hill, Derry appeared at a preliminary enquiry at Derry Magistrate's Court today.
He faced one charge of murdering Mr McCauley on June 6 2015.
It was accepted there was a case to answer and Mr Gillen did not wish to call any witnesses or make any statement at this stage.
A defence barrister said there had been threats made against his client.
The defendant was released on £750 bail with one suety for the same amount and returned for trial to Belfast Crown Court on a date to be fixed.
Mr Gillen is allowed to work in England while on bail and must report to North Kent police weekly.