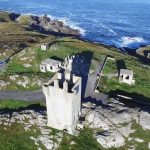 The second phase of works at Malin Head is expected to be completed in the New Year.
The work includes road widening, car parking improved and toilets provided.
It had been anticipated that phase two would be finished before the end of the year however some issues reulted in the work being delayed.
Local Cllr Martin McDermott says with the release of the new Star Wars film in recent weeks, it's more important than ever to get the project moving onto phase three: