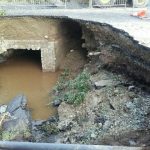 Minister Kevin Boxer Moran has confirmed 8,000 homes across Ireland are to receive flood defences as part of a €260 million plan due to be signed off today.
Minister Moran said the OPW carried out a CFRAM report which surveyed the country and identified flood-risk areas, including Castlefin.
The Independent is reporting that separate supports for communities affected by flood emergencies in Donegal and Laois in recent months are also to be made available.
The money is said to be made available to local authorities over the next 3-4 years.
Minister Moran says they will be taking big steps towards protecting areas at risk of flooding: