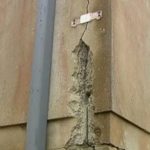 The Housing Minister has given the go-ahead to Donegal County Council to work on initiating a process which would provide housing for homeowners in Donegal affected by Mica.
Many families have been forced out of their homes as they have been deemed unsafe to live in.
Local Councillor Martin McDermott has welcomed Minister English's commitment that the local authority can begin working to provide those affected with alternative accommodation.
He says while a lot more work is needed, this is a step in the right direction: