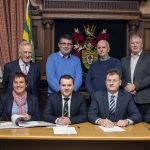 The contract for the new Social Inclusion and Community Activation Programme (SICAP) for the five year period 2018-2022 was officially signed yesterday at the County House in Lifford.
The contract, which will see a combined budget for SICAP in Donegal of just over €2 million per year across the lifetime of the programme, was signed by the Implementing Partners Inishowen Development Partnership and Donegal Local Development CLG, along with the Donegal LCDC (Local Community Development Committee) and Donegal County Council.
SICAP is funded through the Department of Rural and Community Development with co-financing from the European Social Fund and is managed locally by Donegal LCDC with support from Donegal County Council. The programme is implemented in three Lots:- Inishowen, by Inishowen Development Partnership (IDP), Gaeltacht and Donegal by Donegal Local Development CLG (DLDC).
SICAP provides funding to tackle poverty and social inclusion at a local level through local engagement and partnerships between disadvantaged individuals, community organisation and public sector agencies.
The initial SICAP Programme in Donegal ran from 2015 to 2017 and was implemented by IDP and DLDC. They engaged with marginalised communities and a wide range of service providers using an integrated and community development approach to address issues relating to social exclusion and equality.
The new SICAP contract was publicly procured and IDP and DLDC were the successful tenderers.
The Development Companies will engage with Local Community groups and individual beneficiaries across the county. Local Community groups and target groups will be supported to engage with relevant stakeholders in identifying and addressing social exclusion and equality issues and creating more sustainable communities. The Development Companies will also support individuals to improve the quality of their lives through the provision of lifelong learning and labour market supports.