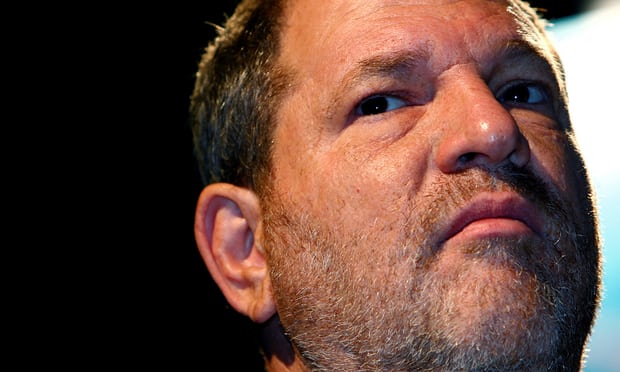 Documentary promises to reveal inside story of disgraced producer and origins of Hollywood's 'deep-rooted sexism'
The BBC has commissioned a feature-length documentary about the disgraced Hollywood mogul, Harvey Weinstein.
The 90-minute film, which will be aired on BBC Two, promises fresh insights and revelations about the producer, who has been accused of sexual assault, rape, harassment and misconduct by dozens of women.
With a working title of Weinstein, it will include interviews with those who have already gone on the record, as well as people who have previously been unable or unwilling to talk publicly about him and the culture that allowed him to operate with impunity, the broadcaster said.
"This film promises to be the definitive take on the Weinstein scandal," said Tom McDonald, the head of commissioning, natural history and specialist factual at the BBC. "As well as revealing the inside story of the past few months in minute detail, it will also look to the past to tell the story of abuses of power within Hollywood since its very origins and chart the rise of Harvey Weinstein himself over many decades.
"This is a film which will ask difficult and challenging questions about complicity, the price of silence and the corrosive effects of power."
It will be directed by the award-winning director Ursula Macfarlane, whose credits include One Deadly Weekend in America and Charlie Hebdo: Three Days That Shook Paris, and produced by Lightbox, the company founded by Academy Award-winning producer Simon Chinn (Man on Wire, Searching for Sugar Man) and Emmy Award-winning Jonathan Chinn (LA 92, Fantastic Lies).
The BBC said the programme would chart Weinstein's rise to prominence and "illuminate Hollywood's deep-rooted sexism revealing how the powerful have been able to construct a complex web of defences to shield themselves and behave with impunity". It will also examine the "mix of money, power, exploitation and abuse", which it says developed with the emergence of the studio system in the 1930s.
The scandal has inspired women to come forward with allegations of sexual abuse against other men in Hollywood, as well as in other professions including the media and politics.
Weinstein's representatives have said he is apologetic "to those offended" by his behaviour. He denies any allegations of non-consensual sex.
theguardian.com