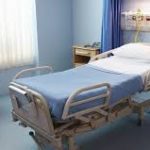 The Full Capacity Protocol has been implemented at Letterkenny University Hospital.
There were 35 people awaiting in-patient admission at the hospital this morning. Of those, 22 were waiting in the hospital's Emergency Department.
In a statement issued by the hospital they say the Emergency Department is extremely busy today with a significant number of patients awaiting admission and they are working to identify patients who are appropriate for discharge.
The hospital apologises to patients and their families for delays and remind the public to attend the Emergency Department only in the case of real emergencies and people contact their GP or GP Out-of-Hours service in the first instance.