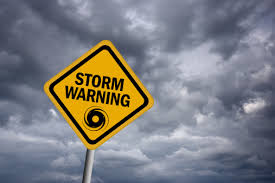 Two separate weather warnings have been issued as Storm Caroline bears down on Ireland.
Donegal, Galway, Mayo and Kerry are included in both of the warnings, while Leitrim, Sligo and Clare are included in the second warning.
The first warning will be valid from now until 11pm tonight. Met Éireann says, southerly winds of up to 65 km an hour are expected with gusts of up to 110km an hour along coastal areas.
The second, will be active for all of tomorrow, kicking in at 3am and expiring at 8pm.
Describing the wind warning for Thursday Met Éireann says: "An Atlantic storm will pass close to the north coast of Scotland on Thursday morning.
"The UK Met Office have named it Storm Caroline. Severe winds will affect parts of Scotland, but it will generate strong and blustery winds over Ireland also.