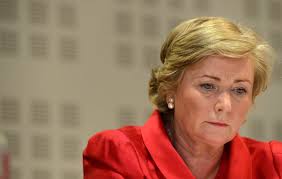 Frances Fitzgerald was made aware of a garda strategy to take an aggressive stance towards Maurice McCabe a second time in the summer of 2015, by way of a media query.
The then Justice Minister was advised that if asked about this, she could say that Sergeant McCabe was a valued member of the force.
The new revelations come as the Taoiseach and the Fianna Fail leader continue to discuss options to avoid the Dail being dissolved due to a no confidence motion in the Tanaiste.
Frances Fitzgerald has said, and her party has accepted, that she does not recall an email sent in May 2015 outlining the Garda Commissioner's legal strategy to attack the motivation of Maurice McCabe at the O'Higgins Inquiry at that time.
But in a trawl of records at the Department of Justice, ordered by the Taoiseach last week – it's now emerged that the Minister 'noted' that email.
It's also been confirmed that the former Justice Minister was made aware of a media query which referred to the aggressive stance that Commissioner Noirin O'Sullivan ordered her legal Counsel to take.
The email also advises Frances Fitzgerald that if she's questioned about this, she could say that Sgt McCabe is a valued member of the force.
While the email says the matters are before a Commission of Investigation, it will be seen as the second time Minister Fitzgerald was made aware of the plan to smear Maurice McCabe – despite her saying she did not become aware of the matter until a year later.
This new evidence is surely raising the stakes of talks between the Taoiseach and Micheal Martin this evening - less than 24 hours before the motion of no confidence in the Dail is due to be debated.