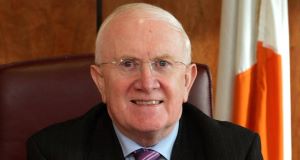 The Tanaiste is to make a statement to the Dail this evening on when she became aware of a garda strategy to discredit Maurice McCabe.
Frances Fitzgerald says she doesn't remember an e-mail she got in May 2015 which described a row between the legal teams of the Garda commissioner and Sergeant McCabe.
Taoiseach Leo Varadkar told the Dail he did not mislead it when he said last week that Minister Fitzgerald only became aware of the garda strategy at the start of the O'Higgins commission in May 2016.
Bowing to pressure from Micheal Martin, Brendan Howlin and Pearse Doherty, Leo Varadkar said Frances Fitzgerald would speak on the matter later
Previous to this, there was a spirited exchange between the Taoiseach and Leas-Chean Comhairle Donegal Deputy Pat the Cope Gallagher over the legalities of the issue: