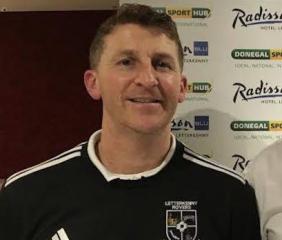 Anthony Gorman is confident that his Ulster Senior League squad can reclaim the Michael Ward Trophy at this weekend's FAI Intermediate Inter-League Tournament in Galway.
The USL side has won the competition just three times in the past - Danny McConnell's team winning in 1998 and the Donal O'Brien-managed side topping the pile in 2013 and 2014 - and a very strong 20-man panel is in place for the trip this weekend.
Bar the enforced absence of Cockhill Celtic's Garbhan Friel, owing to work commitments, the USL panel is as strong as Gorman could wish for. Friel's place is filled by his Cockhill colleague Ryan Varma.
"I'm confident with the squad we have," Gorman said.
"There is no doubt in the ability of that squad.
"We had it whittled down to about 23 or 24. I explained to the others that they would be stand-by players and they were happy enough with that.
"It's difficult, but we have had good commitment from the players from day one. We've been pleased with that."
Although Friel's is a big void to fill, Gorman - who is assisted by Gavin Cullen and Michael McHugh - is buoyed by the attacking quality within his ranks and the squad is seeping with senior experience.
Gorman said: "When we sat down at the start, we were going through a list of names and we had about ten strikers. It's very unusual for a League to have so many top, top strikers. We had a problem straight away. You include the likes of Tony McNamee, Mark Moran, who can play off the striker. They're players who have the craft and guile to change a game.
"We had a few headaches to pick the best squad we could. There is an awful lot of talent in the League and it was just a matter of getting the balance right. We had to get the right blend and get some physical players in there too."
Last year, the USL missed out on the title following a final day defeat to Munster, having started well.
This year, the weekend again begins with a joust with Leinster on Friday before they take on Connacht on Saturday and a final day meeting with Munster concludes the tournament.
Gorman said: "The first game is the most important. It's not that you have to win, but it's a game you daren't lose. If it's the 90th minute of the third game or the 50th minute of the second, you have to stay in the tournament.
"We were flying last year going into the last game and Munster caught us with an early goal. They kept us at bay and won the tournament. There is a lesson there. You don't have to win it early. You stay in the game and stay in the tournament for as long as you can.
Included among the USL number is Letterkenny Rovers striker Pajo Rafferty, who has stepped into the USL this year having previously played in the Donegal League, lining out in the Oscar Traynor panel for them.
Gorman believes his clubman should be an example to players to play at this highest possible level.
Gorman said: "Pajo is 32 or 33 and coming in from the Donegal League. He's been fantastic for Rovers. He just didn't realise how good he was.
"Pajo is showing a real desire to come in and prove himself. For other players, it's about getting a game easily on a Saturday or a Sunday. That means there are clubs struggling to get the best players available to them."
Ulster Senior League squad, FAI Intermediate Inter-League Tournament: Rory Kelly (Letterkenny Rovers), Gavin Cullen (Cockhill Celtic), David Shovlin (Letterkenny Rovers), Conor Tourish (Letterkenny Rovers), Peter Doherty (Cockhill Celtic), Lee Toland (Letterkenny Rovers), Johnny Havlin (Cockhill Celtic), Sam Todd (Derry City Reserves), Adrian Delap (Derry City Reserves), Jimmy Bradley (Cockhill Celtic), Ronan Doherty (Cockhill Celtic), Michael Funston (Bonagee United), Malachy McDermott (Cockhill Celtic), Laurence Toland (Cockhill Celtic), Mark Moran (Cockhill Celtic), Tony McNamee (Fanad United), Pajo Rafferty (Letterkenny Rovers), Oisin McMenamin (Fanad United), Sean McCarron (Letterkenny Rovers), Ryan Varma (Cockhill Celtic).
FAI Intermediate Inter-League Tournament Fixture
Friday, November 17, 2017, 7.45pm
Leinster Senior League v Ulster Senior League Mervue
Connacht Football Association v Munster Senior League Eamonn Deacy Park
Saturday, November 18, 2017, 2.30pm
Ulster Senior League v Connacht Football Association Eamonn Deacy Park
Munster Senior League v Leinster Senior League Mervue
Sunday, November 19, 2017, 11.30am
Leinster Senior League v Connacht Football Association Eamonn Deacy Park
Munster Senior League v Ulster Senior League Mervue