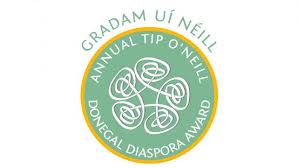 Four people will be presented with Tip O'Neill Irish Diaspora Awards at a ceremony in Buncrana next month.
The four recipients are former Ireland and Celtic goalkeeper Packie Bonner, Fraser Doherty, founder of Super Jams in Scotland, Barbara Koster, Senior Vice-President of Pramerica and Marty Meehan, President of the University of Massachusetts, Boston.
The award was initiated in 2012, the centenary of the birth of Tip O'Neill, the former US speaker whose maternal grandparents were from Inishowen.
Throughout the day, the recipients are giving workshops at Ulster University in Derry, before tonight's ceremony at An Grianan Hotel in Burt.
The awards committee is chaired by Cllr. Nicholas Crossan: