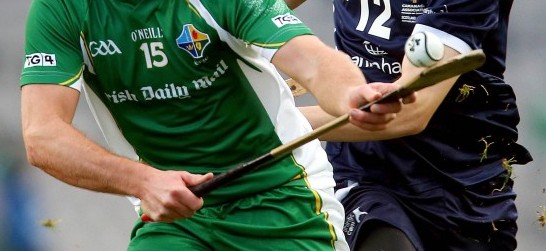 Some of the biggest names in hurling will backbone the Ireland Hurling/Shinty squad to take on Scotland in the annual international clash next Saturday 21st October.
Tipperary's 2016 All-Ireland winning full-back, James Barry, is joined by forward stars Lee Chin (Wexford), John McGrath (Tipperary) and Conor Lehane (Cork) for the meeting with the Scots in Bught Park in Inverness.
Derry's Alan Grant is the only player from the north west included in the senior squad while his fellow county man Darragh Cartin has been named on the u21 squad.
Hurling/Shinty International Tour 2017 Senior Panel
1 Enda Rowland Laois
2 James Barry Tipperary
3 Chris Bonus Kildare
4 Lee Chin Wexford
5 Paul Coady Carlow
6 Ben Conroy Laois
7 Alan Cox Westmeath
8 James Doyle Carlow
9 Tommy Doyle (Capt) Westmeath
10 Alan Grant Derry
11 Damien Healy Meath
12 Ross King Laois
13 Conor Lehane Cork
14 John McGrath Tipperary
15 John McManus Down
16 Mark Moloney Kildare
17 Andy O'Brien Wicklow
18 James O'Connor Kerry
19 David Reidy Kildare
20 Denis Stapleton Kildare
Hurling/Shinty International Tour 2017 U21 Panel
1 Stephen Murphy Kerry
2 Shane Bennett Waterford
3 Darragh Cartin Derry
4 Shane Conway Kerry
5 Patrick Curran Waterford
6 Killian Doyle Westmeath
7 Cathal Dunbar Wexford
8 Aaron Dunphy Laois
9 Sean Finn (Capt) Limerick
10 Kevin McDonald Carlow
11 Christy Moorehouse Wicklow
12 Ryan Mullaney Laois
13 Chris Nolan Carlow
14 Tomás O'Connor Kerry
15 Eoin O'Hehir Kildare
16 Conor Shaw Westmeath
17 Jack Sheridan Kildare
18 Ger Walsh Antrim
19 Sean Whelan Carlow
The Ireland senior squad is jointly managed by Tipperary All-Ireland minor winning manager Willie Maher and Kilkenny's Conor Phelan.
The Under 21 side is managed by Willie Cleary and Gavin Keary.