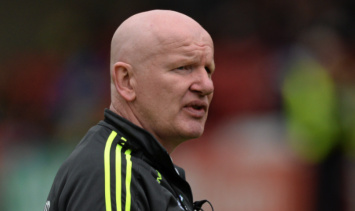 Donegal will be on the road for four of their seven Division One National Football League ties in 2018.
In the draft list of fixtures, Declan Bonner will be taking his side to Kerry on the final Sunday of January to start the campaign.
The other away ties will be at Dublin, Tyrone and Monaghan.
Donegal's home games will be Galway at the start of February, Kildare at the end of February and the final round on March 25th against Mayo.
Tyrone start their campaign away to Galway with further trips on the road to Kildare Monaghan and Mayo.
Tyrone's home games are against Dublin, Donegal and Kerry.
Croke Park will confirm the full list in due course.
Round 1 – Saturday 27th
Dublin v Kildare.
Round 1 - Sunday 28th January
Galway v Tyrone, Kerry v Donegal, Monaghan v Mayo
Round 2 - Saturday 3rd February.
Mayo v Kerry, Tyrone v Dublin.
Round 2 - Sunday 4th February
Donegal v Galway, Kildare v Monaghan.
Round 3 - Saturday 10th February
Dublin v Donegal.
Round 3 - Sunday 11th February
Galway v Mayo, Kildare v Tyrone, Monaghan v Kerry.
Round 4 – Saturday 24th February
Mayo v Dublin, Monaghan v Tyrone.
Round 4 – Sunday 25th February 25th
Donegal v Kildare, Kerry v Galway
Round 5 – Saturday 3rd March
Dublin v Kerry, Tyrone v Donegal.
Round 5 -Sunday 4th March
Galway v Monaghan, Kildare v Mayo
Round 6 – Saturday 17th March
Mayo v Tyrone
Round 6 - Sunday 18th March
Galway v Dublin, Kerry v Kildare, Monaghan v Donegal
Round 7 -Sunday 25th March
Donegal v Mayo, Dublin v Monaghan, Kildare v Galway, Tyrone v Kerry