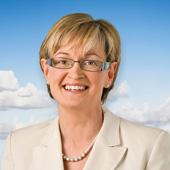 MEPs have voted to oppose moving on to a second phase of Brexit talks.
But the vote at the European Parliament is non-binding.
The EU's chief negotiator, Michel Barnier, says "serious differences remain" between the EU and the UK.
During the debate before the vote, Fine Gael MEP Mairead McGuinness referred to those counties that could be profoundly impacted by Brexit.
The parliament Vice President said there can be no return to the hard borders of the past................