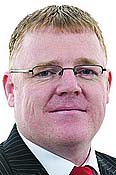 A West Tyrone MLA is warning farmers affected by the recent floods that if their land is not fit for use as a result of the damage, they must submit a special form  by tomorrow in order to protect their Single Farm payments.
Declan Mc Aleer says the Force Majeur form deadline is set by the EU and is not negotiable.
If the form is not submitted, he says farmers may find themselves losing the opayments to which they are entitled.
He says it's vital that does not happen....
Department statement -
The Department of Agriculture, Environment and Rural Affairs (DAERA) is reminding farmers that they must submit their 'force majeure' applications before the deadline of midnight Thursday 14 September 2017.
If the floods of Tuesday 22 August have affected the eligibility of farm land for schemes such as the Basic Payment Scheme, it is crucial that applications must be submitted before the statutory 15 day deadline.
Farmers are also advised to notify the department of any damage to field boundaries such as fences or hedges.
Losses of livestock which may affect a farmer's ability to meet the stocking density requirements for the Areas of Natural Constraint scheme should also be recorded on a 'force majeure' application.
Farmers should not be concerned about the implications of submitting a 'force majeure' application in 2017. However, if they don't submit an application for 'force majeure' and the land is ineligible and is subsequently inspected they could lose some of their payment as a result.
In 2018 DAERA will be looking for a further 'force majeure' application and at that stage we will be asking for some updated information on the efforts the farmer has made to try and bring the land back into eligible condition.
While DAERA is conscious that this is a challenging situation for farmers and land owners, this deadline cannot be extended.
So, please apply now to ensure you do not miss out on EU payment schemes.
If you need advice, please immediately contact Area-Based Schemes Payment Branch on 0300 200 7848. Forms can be handed in to any DAERA Direct Office up to 4pm or emailed up to midnight on Thursday 14 September at areabasedschemes@daera-ni.gov.uk
A link to the 'force majeure' application form can be found on the DAERA website: https://www.daera-ni.gov.uk/publications/force-majeure
The form can be used to notify DAERA of 'force majeure' issues arising for all schemes including Basic Payment, Areas of Natural Constraint, agri-environment and woodland schemes. 
More information on 'force majeure' and its relevance to those claiming area based scheme payments is contained within the Guide to the Basic Payments Scheme 2017 (Page 62) which can be accessed via the DAERA Website: https://www.daera-ni.gov.uk/publications/2017-guide-basic-payment-scheme