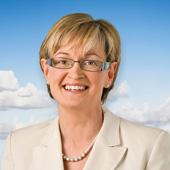 An interesting twist from the Brexit fallout could result in two extra MEP seats for Ireland. Britain currently has seventy three MEPs.
They'll all lose their seats once the UK leaves the EU. And last night the European parliament debated a report on the future composition of the Parliament post-Brexit.
One of its recommendations is the re-distribution of twenty two of the seventy three UK seats among some of the remaining EU countries.
According to the Fine Gael MEP Mairead McGuinness, Ireland would gain two extra MEP seats as a result of that re-distribution..............