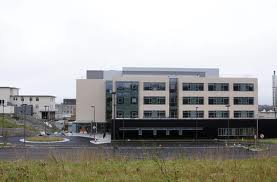 Formal contracts have been signed and ethical approval has been secured for a €100,000 research project announced earlier this year for Letterkenny University Hospital.
The six month study will involve 120 participants who have just finished their treatment. Half of whom will be given specially targetted support and advice to improve their diet and activity levels. They will be compared to another 60 people who will receive the standard follow-up care.
A wearable device will be used by all participants to monitor diet, sleep and exercise patterns, and the impact of the project will be assessed at the hospital and at NUIG in Galway.
Last night, at a Relay for Life presentation in Letterkenny, Advanced Nurse Practitioner Dr Janice Richmond and Oncology Research Nurse Mary Grace Kelly spoke to Highland Radio News about the project, and confirmed recruitment is set to begin in the coming weeks.
First, Dr Janice Richmond spoke about the research team that has been assembled......