The Great British Bake Off's first episode on Channel 4 has gone down well with viewers - although some took time to adjust to the new line-up and advert breaks.
The new series sees Paul Hollywood joined by fellow judge Prue Leith, with Noel Fielding and Sandi Toksvig on presenting duties.
We'll find out how many people watched the show on Wednesday morning.
The first episode broadly won over the critics, but it's the viewers Channel 4 needed to convince.
"I feel like I'm breaking some kind of law by watching this without Mel, Sue and Mary," tweeted Kelly as the episode started.
But with other viewers declaring the show "the best thing about being British," most stuck with it and had been won over by the time it ended.
---
Presenters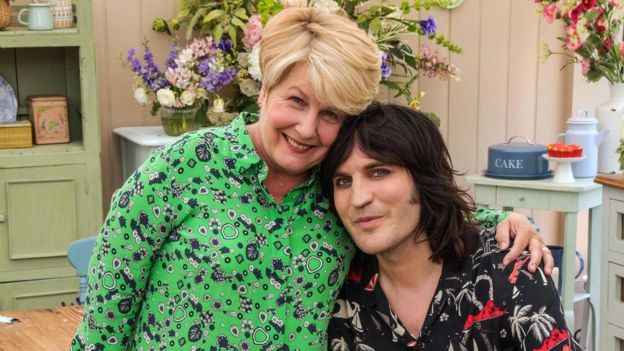 Toksvig was popular on Twitter, with Mary writing: "Sandi is a natural to give this show coherence and polish."
Michelle said Sandi's co-host Noel was "pretty adorable" while Rob said he was "totally on board" with the Mighty Boosh star as a presenter.
Greg wrote that Fielding was going to "single-handedly save this series".
But Stephanie said: "It's like Top Gear all over again 🙈"
(We don't think that's a compliment given how Chris Evans's season went down.)
Chloe said Sandi and Noel were "no Mel and Sue", while Hannah tweeted: "The word bake just doesn't sound the same coming from them."
But former contestant Rav Bansal spoke for many when he said: "Although Mel and Sue will always have my heart, Sandi and Noel are doing brilliantly."
Very diplomatic.
---
Ad breaks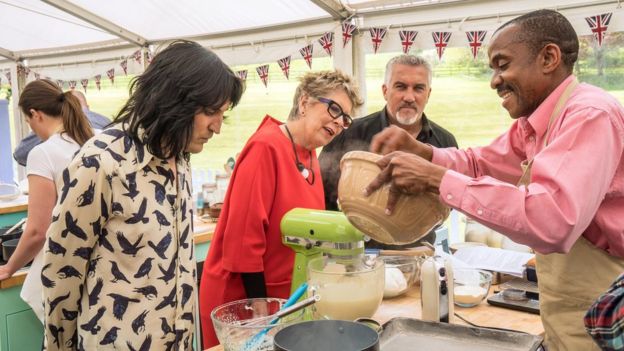 Not everybody was a fan of the commercial breaks, and many viewers were quick to tweet their thoughts when the ads started rolling.
"Adverts in GBBO is just wrong," was one of the more printable reactions to the first break.
By the third, Julie said she was getting "fed up" with the interruptions and Gemma tweeted they were the "only thing I hate about the new GBBO".
But Pauline pointed out: "Don't mind the adverts - allows me to make tea!"
Similarly, Katie felt the ads "built the tension" while Vicky said they "give you a chance to debrief in between segments".
---
Format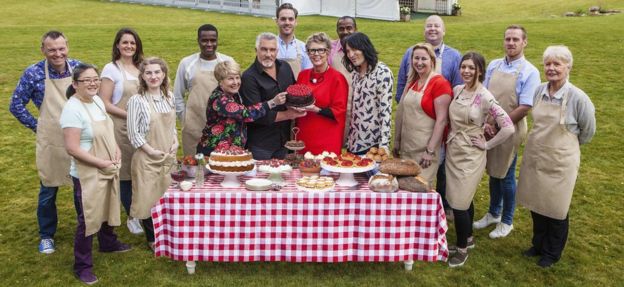 Line-up changes and ad breaks aside, many viewers said the show felt reassuringly familiar.
Sue tweeted: "Hats off to Channel 4 - well done for keeping GBBO the same great format.
"Yes the ads aren't great but they weren't too badly placed! 👍"
"Channel 4 have nailed this... Right time for a change it was getting a bit stale," tweeted Sam.
1Xtra presenter Nick Bright said the show was "literally exactly the same with a couple of different people".
"So glad they kept the familiar format. I'm hooked," wrote Wendy.
Aoife said: "BBC? Channel 4? Who cares. People are making delicious cake for Paul. All is still well in the world."
---
Yes yes, but what about the cakes?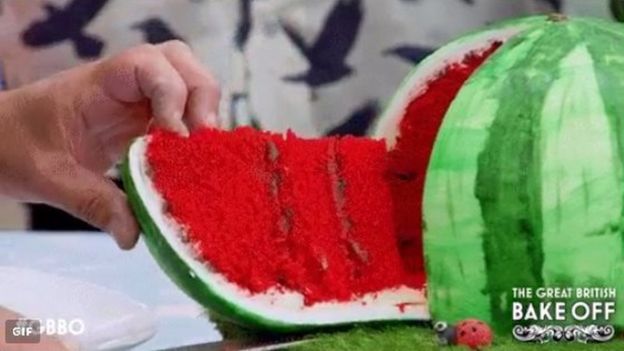 Good question. The show is, after all, about the contestants and their bakes.
"For the first week these showstoppers look amazing!" said Alex, referring to the extremely high standard in the first episode.
Flo's watermelon cake looked "amazing" according to James, although Fiona said it had "far too much food colouring in the batter for my liking" (up your game, Flo).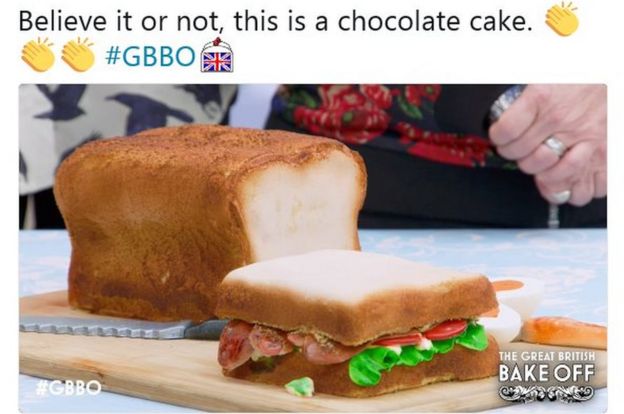 Laura singled out the champagne bottle and loaf-of-bread cakes for being "absolutely stunning".
The dishes all looked so appetising that Laura (a different one) said: "Now I'm confused about whether I want cake, a BLT or some chicken katsu?
"All I know is that I'm now extremely hungry 😩"
---
So, will the viewers be returning?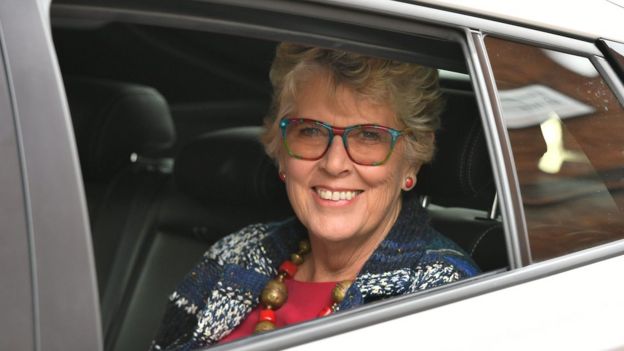 By the sounds of it, yes.
"What a brilliant first episode of #GBBO - so excited for the rest of this series!" tweeted Rhys.
Dee said: "Glad GBBO is back. Note to self: record rest of series to avoid the ads. Miss Mary, Sue and Mel - adjusting to new line up and loving Flo 💓"
Some viewers might not stick with the series, however.
"You've ruined a brilliant show," Louise wrote on the show's official Facebook page.
"Jokes are forced, the bakers are not good enough and the challenges too hard.
"Prue is too judgemental and the whole thing is far too rushed trying to create an idea of tension. So disappointed."
---
What did the critics think?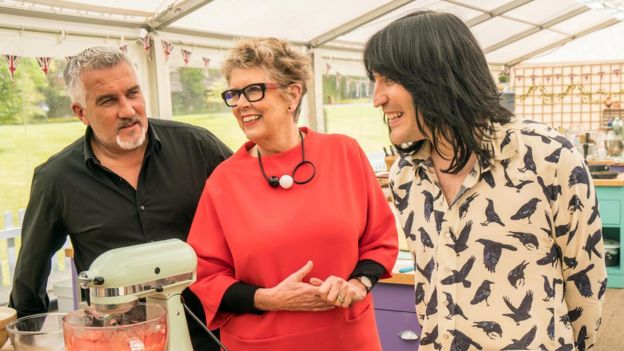 The Telegraph's Michael Hogan said: "Mary, Mel and Sue might be gone, but the show's recipe remains as winning as ever."
According to The Guardian's Mark Lawson, "The eighth series of the extreme patisserie challenge manages to seem exactly the same but also just different enough."
Frances Taylor of the Radio Times wrote: "It's a bit rough around the edges, a little burnt on the outside. But it's still our Bake Off."
BBC.com