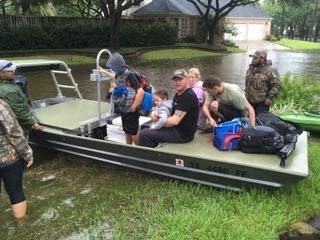 The former mayor of Buncrana Lee Tedstone and his family have been rescued from their Houston home which was engulfed by flood waters from Tropical Storm Harvey.
Lee has been living and working in Houstan, Texas with his wife Shannon and children Shea, George, Rory and Amy Rose since July of 2015.
He is the Director of the Irish network in Houston.
And in a cruel twist of fate, his home in Houston has been engulfed by floods in the same week his property in Buncrana was hit by the devastating Inishowen floods of last Tuesday.
Speaking to Highland Radio from Houston, Lee said he was relieved that his family is safe but it could be months before they are able to return to their home.
More than 20 people are reported dead as a result of Storm Harvey, and large parts of the city of Houston are under water.
The storm has now moved on to neighbouring Louisiana, where flash-flood warnings have been issued.
You'll be able to hear the Tedstone's story on Highland Radio on Thursday.