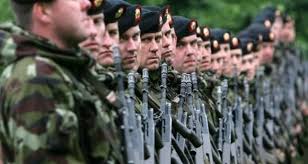 It has been confirmed that a Defence Forces platoon will arrive in Donegal on Friday morning to help with the clean-up after the flood disaster.
Paul Kehoe, Minister for Defence, has confirmed that an initial platoon of 30 Defence Forces personnel will be deployed in Inishowen from 9am on Friday.
Welcoming the news, Minister Joe McHugh said "It became increasingly clear on Wednesday that as Donegal County Council tried to estimate the damage done that the picture was getting progressively worse and earlier today – having seen the devastation first hand - I asked for help from the Defence Forces and contacted Minister Kehoe.
"Many assessents of damage remain to be done. However it was also clear more help is needed on the ground.
"I'm conscious that local people in local communities are helping each other and I want to pay tribute to all those involved.
"I've been assured that more Defence Forces personnel will be deployed should they be needed."