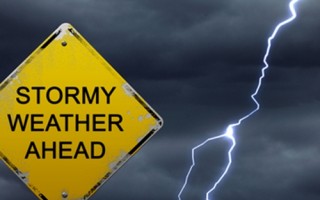 Donegal County Council says it receiving reports of extensive flooding across the county following Tuesday's heavy fall of rain.
The Council is advising against unnecessary travel and if you have to travel, to do so with extreme care.
Senator Pádraig Mac Lochlainn has taken to social media to highlight severe flooding in South Inishowen with many households effected by the extreme rain.
He has described the flooding as an 'unprecedented crisis'.
In Burnfoot the road is closed in both directions. The Aghilly Road and Grania's Gap closed with Muff and Bridgend 'under serious pressure'.
Commenting on the crisis in Inishowen, the council said 'Major flooding in Inishowen area. Many roads washed away and bridges down, all routes affected.'
There was a threat of flooding at the Buncrana Nursing home late in the evening but thanks to the efforts of volunteers the situation was brought under control.
Roads updates as of midnight:
Burnfoot to Buncrana road impassable. Road between Muff to Quigleys point blocked due to fallen tree. Buncrana to Carndonagh road blocked also.
The following roads are closed; Gleneely, Glentogher, Rashinney, Cloontagh, North Pole, Quigley's Pt to Muff, Cockhill.
The council is asking people to please avoid any unnecessary travel tomorrow am as there is significant flood damage affecting all routes.
Earlier updates...
There is extensive flooding in many areas including on the Manorcunningham to Lifford road and extreme care is needed.
The N13 to Manor is treacherous and should be avoided.
The road at Killea & Burnfoot is passable with extreme care.
There has been extensive flooding in Raphoe Town with the junction up Irish Road pictured below
Alan McMenamin pictured just some of the damage caused by Tuesday's heavy rain on the Drumquinn Road:
Alan also says the Donegal GAA training ground is under least 1ft of water with the side road only passable by 4x4.
Eddie Harkin has posted this picture of the old customs at Muff
Kieran Kerr early caught this picture of flooding on the road to Drumoghill with the road barely passable:
There are numerous reports of areas in Buncrana being badly effected with social media calls being made for sandbags, the Maherinture area is said to be particularly badly effected.
The weather is causing problems with the electricity network. Earlier 1,300 hundred were without power in Buncrana but it has since been restored. There are ongoing outages in Carndonagh and Moville.