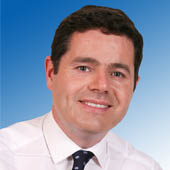 The Minister for Finance has claimed that "to be moderate is to be radical".
Paschal Donohoe made the claim as he hit out at left wing parties in the Dáil, in a speech at the MacGill Summer School in Donegal.
In an apparent reference to the controversy over the Jobstown verdict, he said some on the left had used the tactics of "the ugly far right".
Minister Donohoe warned of possible future shocks to the economy, and said he would take a balanced approach to the upcoming budget..................