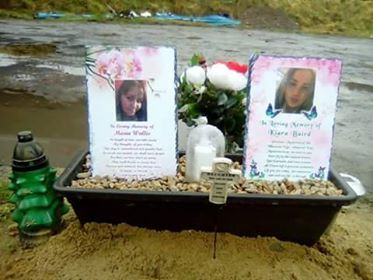 The mother of one of the victims of a fatal crash on the Glenfin road has said she is 'devastated' after a memorial plaque placed at the scene was removed and thrown deep into bushes
Kiara Baird (19) died alongside mother-of-three Maria Wallis (38) when the car they were travelling in rolled over and hit a lamp post outside Ballybofey in September last year.
The women were returning home from a college beautician course at nearby Finn Valley college.
Memorial plaques were placed at the scene of the crash but they went missing between 8pm on Saturday evening and 1am on Sunday morning.
They were later found on Sunday afternoon damaged and thrown deep into nearby bushes.
Kiara's mother said she was 'absolutely devastated' by the act