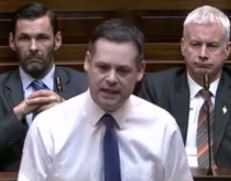 The Dáil has heard claims that the trial of Sean FitzPatrick was deliberately allowed to collapse.
The Dáil is holding an emergency debate this afternoon into the state of the Office of the Director of Corporate Enforcement, which was found to have botched its handling of the case.
Donegal Deputy Pearse Doherty says that the ODCE was unprepared and unable for this type of investigation and prosecution.
Speaking in the Dail a short time ago, Deputy Doherty says it's clear that it was neither funded nor resourced correctly and all the warning signs were effectively there: