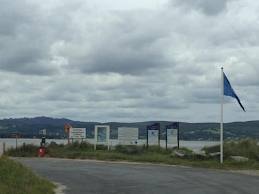 Donegal County Council has expressed disappointment after Lisfannon beach failed to retain its Blue Flag.
Yesterday it was announced that Donegal received Blue Flag Status on 13 of its beaches with five other beaches retaining their Green Coast Awards.
The council has welcomed the 12 retentions, and has also expressed delight at the success of Greencastle, which has been awarded a blue flag for the first time.
The council has vowed to continue to provide the same level of support and services at Lisfannon, with a view to achieving Blue Flag status in the upcoming bathing seasons.
To achieve Blue Flag status beaches and marinas must comply with a specific set of criteria relating to a number of areas including water quality.
Lisfannon failed to reach the criteria as their water quality was just outside the required excellent standard.
Donegal County Council is reviewing the factors contributing to their 'Good' water quality with a view to attaining 'Excellent' status.