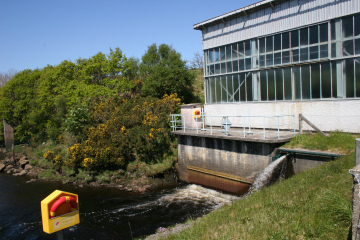 The ESB has announced it is to upgrade the Clady power station in West Donegal, with €1.8 million euro set to be invested into the facility.
The 4.2 MW Clady Hydroelectric generation station first came into operation in 1959, and has a current capacity of generating electricity for the equivalent of 3,000 houses.
The improvement works announced by the ESB should be complete by October.
The station uses water from Dunlewey Lough and Lough Nacung, both drained by the Clady River, which enters the sea at Bunbeg.
The river has been partially diverted by Gweedore Weir into a 2.5 km canal, with a 500m steel penstock carrying the water from the canal to the generating station at sea level.
The works will involve improvement works to the intake gate, the penstock, generator and electrical components and replacement of the turbine governor.
Donegal TD Pat the Cope says the refurbishment works will create activity in the general area but more importantly it will secure the facility for the area, and provide cheap clean electricity for the national grid.