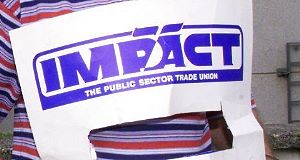 IMPACT's Local Government Division is holding its annual conference in Letterkenny at the moment,. with today the acceleration of public service pay recovery high on the agenda.
This morning, the union's national secretary Peter Nolan warned against 'special deals' for some groups, saying workers would not vote for an outcome that "gives with one hand and takes away with another."
Mr Nolan also said lower paid staff must benefit from any pay increases.
He told delegates at the Mount Errigal Hotel that workers' expectations were realistic, but a talks outcome that lacked substance would not be accepted in union ballots.